Welcome from the Principal Officer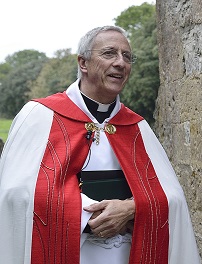 It is my consistent experience as a Christian and especially as a Christian minister that whenever I draw a line in my mind or feelings which says to me that this is the limit of what I feel comfortable with, to create a sort of feeling that God is on this side ( usually mine) and there be dragons on the other side.
I have found that the line is quickly challenged and wiped out and put further away. Usually in my mind's eye a man is doing this by rubbing out the line with his feet and a wry smile on his face and slight shake of his head. Of course this is my picture of Christ pointing out the futility of my attempt to control where God is or isn't and by implication where I am now called to tread.
This appears to be also consistently the experience of those called to work beyond the confines of the church and reach out into community. God is always bigger than we can ever imagine and he always goes before us in the lives of the people we meet.
Workplace chaplaincy is very much of this mode, we do not take God into workplaces for he is already there, it is our privilege and joy to loiter and saunter with people in shopping malls, power stations, police stations, council offices where they work or seek leisure and offer the opportunity to recognise that God is in our lives.
The Workplace team is an extraordinary group of ministers and laity who are called to go beyond the boundaries, lines, barriers and help others realise there is no place where God does not go, no place where his love and compassion cannot make a life transforming transformation for individuals and communities. Do you have a consistent calling to go beyond the boundaries for Christ? Then why not get in touch.
Venerable Martin Webster
Archdeacon of Harlow